If you're looking for a comprehensive guide in transacting with Ameris Bank, this is the page you're looking for. This is where you can have a list of their mailing address, branch locations, and any relevant information that can help you do business with them in the quickest way possible.
"With their services that go beyond being a conventional bank, Ameris Bank has team players that are willing to go the 'extra mile' just so they can emphasize their boldness in making a difference."
Ameris Bank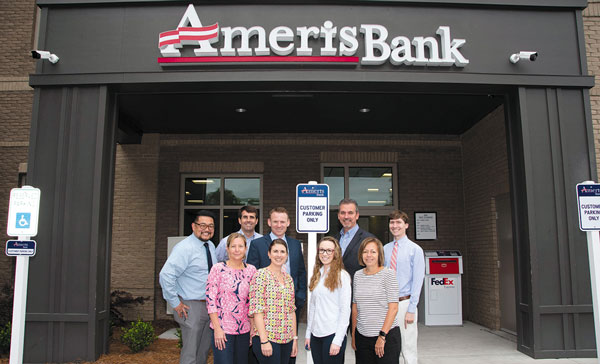 Ameris Bank is a financial institution based in Moultrie, Georgia, with branches and offices throughout the Southeastern United States. The bank was founded in 1971 and has grown to become a leading provider of financial services in the region.
Ameris Bank offers a wide range of banking and financial products and services to individuals, businesses, and communities. These include personal banking services such as checking and savings accounts, loans, and credit cards, as well as business banking services such as commercial lending, cash management, and treasury services. The bank also provides wealth management and trust services, insurance products, and investment management services.
Ameris Bank is committed to providing its customers with exceptional service and has received numerous awards and accolades for its customer satisfaction and community involvement. The bank is also dedicated to giving back to the communities it serves through various charitable initiatives and volunteer programs.
Keep reading our extensive list, which categorizes all of Ameris Bank's contact information, including mailing addresses and phone numbers, by loan type and service. This useful tool enables you to promptly locate the payoff address and receive the timely assistance you require.
Is Ameris Bank and Fidelity The Same?
In Q3 2019, Fidelity Bank merged with and into Ameris Bank in an all-stock transaction. As a result, Fidelity Bank is no longer a separate entity and the combined company now operates as Ameris Bank. As of September 30, 2018, the combined company had approximately $16.2 billion in assets and a branching network across four states.
Therefore, Ameris Bank and Fidelity Bank are not the same, but Fidelity Bank is now a part of Ameris Bank through the merger.
Ameris Bank Payoff Address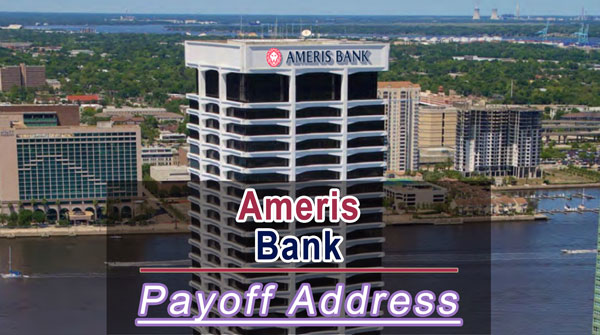 Ameris Bank Auto Loan Payoff Address:
Here is a general Ameris Bank Auto Loan Payoff Address that you may use as a reference:
Ameris Bank Auto Loan Payoff Address:
Ameris Bank
Attn: Consumer Payoffs
P.O. Box 105690
Atlanta, GA 30348
To obtain the correct payoff address for your specific auto loan, please refer to your loan documents or contact Ameris Bank's customer service for assistance.
You can also get in touch through Ameris Bank's Automated Telephone Banking number at 404-553-2288 or 833-875-2277 to obtain payoff information.
Ameris Bank Overnight Physical Payoff Address:
Ameris Bank Overnight Physical Payoff Address:
Ameris Bank
Attn: Loan Operations
410 Peachtree Parkway
Cumming, GA 30041
Ameris Bank Routing Number:
The Ameris Bank routing number is a 9-digit code used to identify the bank in financial transactions. The routing number for Ameris Bank is 061201754. You can use this number to set up direct deposits, wire transfers, and other electronic transactions.
Ameris Bank Swift Code:
Ameris Bank's SWIFT code is WFBIUS6S. This code is used for incoming wire transfers to Ameris Bank from international banks. Please note that for domestic wire transfers within the United States, you would need to use the bank's routing number instead of the SWIFT code.
Ameris Bank Hours & Phone Numbers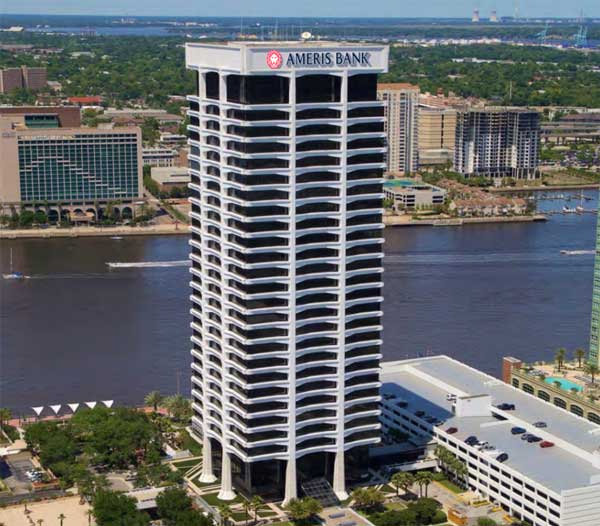 For all servicing questions, call 855-249-8131 between 9:00 a.m. and 6:00 p.m. (ET), Monday – Friday.
For construction loans, call 888-596-2435 between 8:00 a.m. and 5:00 p.m. (ET), Monday – Friday.
Customer Service Center:
Call: 866-616-6020
Monday to Thursday: 8:30 a.m. to 6:00 p.m. (ET)
Friday: 8:30 a.m. to 7:00 p.m. (ET)
Saturday: 8:30 a.m. to 1:00 p.m. (ET)
Ameris Bank Additional Contact Information
Automated Telephone Banking:
Reporting Lost or Stolen Cards
Debit cards: 800-236-2442
Credit cards: 877-334-0460, select option 2
How Do I Order A Payoff Form From Ameris Bank?
You can download it from AmerisBank.com, or by calling their Automated Telephone Banking: 866-616-6020
To order a payoff form from Ameris Bank, you can also follow these steps:
Contact Ameris Bank's customer service by phone or visit a local branch. You can find the contact information on their website.

Request a payoff form for your account. Provide your account details, including your loan number and the purpose of the payoff form.

Ameris Bank will provide you with a payoff form, which will include the amount you need to pay to fully satisfy the loan and the date by which the payment must be received.

Once you receive the payoff form, you can submit the payment according to the instructions provided by Ameris Bank.
It's important to note that the payoff form may have a fee associated with it, so be sure to inquire about any associated fees during the request process.
How Do I Pay My Ameris Bank Mortgage?
There are several ways to pay your Ameris Bank mortgage. Here are a few options:
Online: You can make a mortgage payment online by logging into your Ameris Bank account through their website or mobile app. You can also set up automatic recurring payments or make a one-time payment.
Mail: You can mail a check or money order to Ameris Bank's payment processing center. The payment address can be found on your monthly statement or by contacting Ameris Bank's customer service.
Phone: You can make a mortgage payment over the phone by calling Ameris Bank's customer service and providing your account information and payment details.
In-person: You can visit a local Ameris Bank branch to make a mortgage payment in person.
It's important to note that some payment methods may have associated fees, so be sure to inquire about any fees before choosing a payment method. Additionally, make sure to make your mortgage payments on time to avoid late fees or any negative impact on your credit score.
Ameris Bank Locations Near Me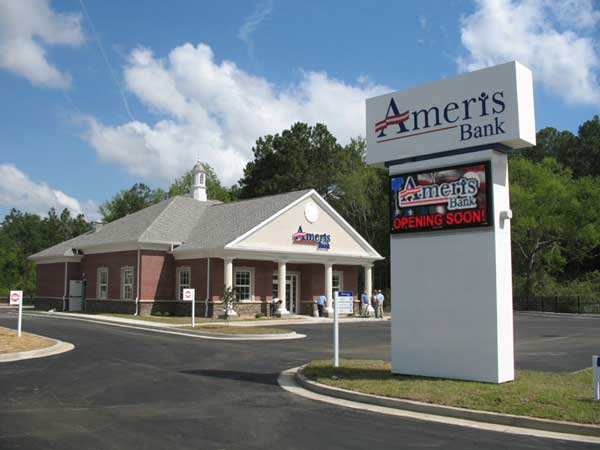 Ameris Bank had approximately 200 branches in the United States, primarily located in the Southeast region. Ameris Bank has facilities in Georgia, Alabama, Florida, South and North Carolina, Virginia, Tennessee, and Maryland. You can visit the bank online at AmerisBank.com.
The nearest local branch can be reached for assistance as well. Browse through AmerisBank.com/locations so you can search for the phone number for the establishment nearest to your location.
Final Verdict
Ameris Bank was established in 1971, and has been thriving in the business world for half a century already. With their services that go beyond being a conventional bank, they have team players that are willing to go the 'extra mile' just so they can emphasize their boldness in making a difference.
Overall, Ameris Bank is a trusted and reliable financial institution that is committed to helping individuals and businesses achieve their financial goals.
You can have a more detailed information about Ameris Bank at their official website: AmerisBank.com
---
This short post is not a paid advertisement for Ameris Bank.
This is just for the sake of helping anyone who aims to have a quicker transaction method.